Written by Travis Knight
Even in the cool coastal town of Pacifica, it was fucking hot that day. I was in an empty upstairs apartment that overlooked Esplanade Avenue, beyond the clear blue sky bouncing off the crisp rolling waves of the Pacific below it. The apartment was empty and muggy, and I was alone rolling paint onto ceilings and walls. Between the sweat rolling down from my forehead and sprinkles of cheap Home Depot paint drizzling down off the squeaky roller, I was constantly squinting and rubbing my eyes to shoo away the burn. I was eager to finish that day, more than usual because when the small two-bedroom got its two coats rolled, I would be hitting the road en route to my next backcountry adventure.
It had only been two weeks since my first backpacking experience, but I was already hungry for more. My backcountry partner (and wife), Camila Pereira, was back home in Sao Paulo visiting family. So, it was a perfect time for a boys' trip. After Milla and I backpacked through the Santa Cruz Mountains, I had been ranting to my friends about how amazing the experience was. Two childhood friends, Joshua Maddock and Seppi Suter (A.K.A. Jeesh and Sop, respectively), took an immediate interest in the idea. They had never packed before. However, as Reno residents, they were frequenters of the nearby Sierra Mountains.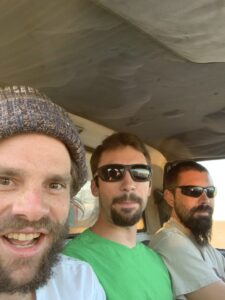 Usually, Jeesh and Sop 4-wheeled into the backcountry, set up camp, and then explored on foot from there. Through long and intense day hikes, they would constantly find rural lakes shimmering off in the distance. Since they could not drive there, they just accepted these shining blue spots as unreachable. After buying their packs, though, they both realized that so many places that they always wanted to explore were now within reach. With this newfound reach, Jeesh and Sop had the perfect spot in mind.
Jeesh and Sop abounded with excitement when they talked of Paradise Valley. Aside from exploring the valley itself, they wanted to camp at Paradise Lake, a crystal blue lake that sits 7,710 feet above sea level. Since driving there is not an option, and it's a good 7 miles from the trailhead, it is not a place teeming with campers. Paradise Lake's remoteness and unique landscape invited us with open arms. I remember a particular conversation I had with Sop a week before our journey.
"Dude, the alpine lakes out there are so fucking sick! The trees up there, the plants, everything is just… different."
I had always heard the term "alpine," but for reasons of ignorance, I always associated this term with Europe, specifically the Swiss Alps. When Sop told me that we were going to an alpine lake, curiosity hooked me, set the hook, and began its rigorous reeling. I wanted to know exactly what Sop meant by "alpine lake."
"The trees up there, the plants, everything is just… different."
The U.S. Department of Agriculture's (USDA) Forest Service defines "alpine" as an ecosystem that bustles above certain altitudes. "Above the treeline" is a common term used to describe alpine forests. However, there are trees in the alpine zones. Furthermore, depending on the region, these altitude guidelines differ. For example, in Yosemite National Park, the alpine ecosystem begins at roughly 10,500 feet. In the part of Tahoe National Forest that we would be trekking into, the alpine ecosystem starts closer to 9,800 feet. Between "above the treeline" and altering altitudes, I became more confounded about what I initially thought was going to be a simple explanation. Lucky for me, Connie Millar, a researcher from the Pacific Southwest Research Station, came to the rescue with clarification. Millar teamed up with Phil Rundel of UCLA's Department of Ecology and Evolutionary Biology to deliver a PowerPoint presentation that put all of my queries about "above the treeline" to rest.
"Above the treeline" is not defined by elevation—that's why the elevation guidelines for different regions differ. Millar and Rundel explain that the treeline is actually a "thermally defined zone (ecotone) on the landscape where mean growing-season temperature is ~6.4 degrees Celsius." For those of us who live in the States, this is a little over 43 degrees Fahrenheit. I found this fascinating and could not wait to see these ecosystems firsthand.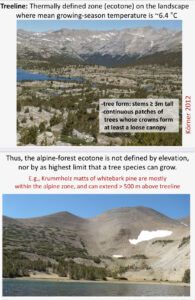 If I thought it was hot in Pacifica, I was nowhere near prepared for the heat that I would encounter heading into Vacaville and Sacramento. To make matters more intolerable, I sat in stop-and-go traffic for the better part of the late afternoon. My dingy dark-blue Dodge Dakota had no AC—or even working air. I took my shirt off to cope with the 114-degree heat, but it was no use. Half of my body was getting sizzled with sunburn. Even with the windows down, the truck was an oven, and I was the roast.
Finally, the sun went down, the traffic diminished, and the air rushing in through the windows was tepid but still a refreshing change. Just because things had cooled down, though, I was not out of the fire yet—not even close. I had just passed Auburn on I-80 westbound, and my truck was struggling with the steep climb into the Sierras. Angry drivers were shooting past me as I crawled along in the slow lane. Although I was flooring the pedal, I was not going more than 40 mph. And as the blue Dodge Dakota crept up the mountain, the grade got steeper, and the truck struggled further. I could hear it in the cries bellowing up from under the hood, shouting to be noticed. I ignored them and kept flooring the pedal.
After a brief gas station stop, I made my way back onto the I-80 west. Having made this drive many times in my life, I knew I had to be getting close to the summit; I was only 20 miles or so from the small mountain town of Truckee. I glanced down at the dimly lit dashboard and believe what I was looking at. The little needle that floats between the C and the H was moving like a clock hand, fast and straight for the H. It could not have been more than 30 seconds before it was fully on the H, and then… BOOM!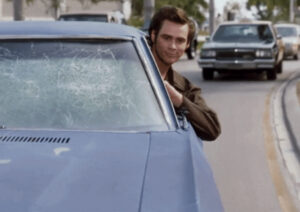 A thick white cloud of something came pummeling at my front windshield. The dense cloud was all I could see, so yes, I began to panic. Luckily, I was still on the incline, so my truck was barely puttering by at 40 miles an hour when the blinding plume bloomed. At first, I thought my truck was going to catch on fire, but the shitstorm rising from under the hood didn't smell like smoke, and its milky white color didn't look like smoke either. It had to be vapor. Well, I hoped it was vapor.
Now I looked like Ace Venture, full head out the side window, trying my best to see the road without getting blasted in the face by this piping-hot mystery cloud. I saw an exit to get off of the freeway, and without even reading what it said, I turned right and hoped for the best.
I found myself at a large rest stop, with cars and big rig trucks everywhere. My own truck was still spewing fog from the engine, but it had significantly chilled out. I opened the hood and immediately saw the problem boiling away like an evening supper. The long haul through hours of traffic, 100+ degree weather, and miles up a mountain had caused the radiator to basically explode. My only choice was to wait for the engine to cool off and hope that my truck would start again. To kill time, I wandered around the rest stop to see if I could figure out where I was. A large sign eased my query. I was at Donner Summit.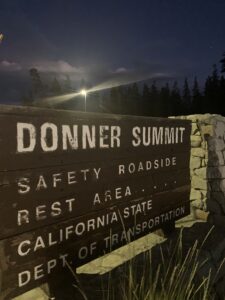 It is likely that you are familiar with the name Donner Pass. Donner Summit—the peak of Donner Pass—was named after a 19th-century excursion gone wrong… terribly wrong. The Donner Party was a band of two families: the Reeds and the Donners, and was ultimately led by George Donner. Their migration to the West started in Springfield, IL, with 31 people. They set off in the spring of 1846, specifically because they wanted to be sure that they would have plenty of time to cross the Sierras before winter hit. The party grew to 87 people as the journey trekked on, and for most of the trip, the migrants were making killer time. But then they made a terrible decision. They decided to take a "shortcut."
When everything was said and done, the Donner Party traversed thousands of miles, eventually making it to their destination. Because they decided to take a shortcut, the Donner Party got stuck in what is today Donner Pass—the site of disaster not far from where my truck was now broken down. Due to their devastating decision, 42 of the 87 people died, and as written records suggest, the Donner Party was forced to cannibalize some of the dead to survive. When the survivors finally made it out of the mountains, it was spring of 1847. Just one year later, gold would be discovered in California, which would create the immense gold rush that history books tell us about today. For those new pioneers, the Donner Party lived on as a cautionary tale. And the tale still lives today. Don't get caught in the Sierras come wintertime.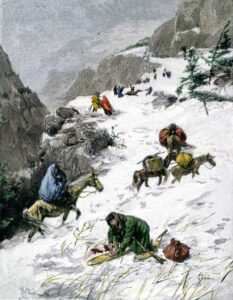 Lucky for me, it was the middle of the summer. However, I was dealing with a completely opposite dilemma to what immobilized the Donner Party. While they were plagued by bitter cold, I was plagued by ruthless heat, and my poor truck was paying the price. I called Sop, who was now completely confused as to why I had not made it to his house yet.
"Dude, where the fuck are you? You left, like, six hours ago. I don't get how you are still not here."
"Yeah, my engine blew up. Or something. I'm not really sure," I replied.
"Where are you?"
"Donner Summit." By now, my dad was sending me frantic texts urging me to: "turn around and get your ass back home!" He was somehow convinced that I totaled my truck and was working himself into a panicked frenzy. But I had gone too far; there wasn't a chance in hell that I was turning around at this point.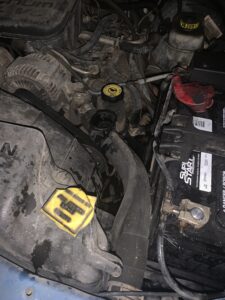 "Donner Summit, huh? Well, that's really close to the trailhead… I think." Sop sighed. " So, what're you gonna do?"
"I have no clue, man. Not a fucking clue."
"Well, you could stay up there, and we could pick you up in the morning. I'm sure you're not that far from the trailhead." The idea of sleeping in my truck was far from a pleasant one. I was already super tired, and I knew that if I slept in the cramped cab of the broken-down blue Dodge, I would be hurting the next day. Hell, I could even miss the hike entirely.
"Yeah, I might have to. Let me call you back, Sop."
"Ok," Sop said, "But call me back you swine. Don't just disappear again."
"For sure. I'm gonna try and start the truck. Call you right back."
"You better. Call me ba…" I hung up the phone before Sop finished. I could tell he was getting frustrated with the whole situation, and I couldn't blame him. I was initially supposed to be at his house at 8 p.m. It was now a quarter to eleven and I was still forty-five minutes away.
"I was hoping for the best but expecting the worst."
I had replenished the radiator with water, and the engine had indefinitely cooled off. Nevertheless, with absolutely no mechanic knowledge to back me up, I was riddled with nervousness. I opened the driver door, swung myself behind the wheel, and jammed the key into the ignition. At this point, I was hoping for the best but expecting the worst. I had an ominous feeling that I would be sleeping on Donner Summit that night.
To my surprise, the engine roared to life. No white cloud burst up around the open hood and no abnormal sounds erupted. I got out and eagerly stepped in front of the truck. Everything looked normal to me. I decided I would go for it. I mean, I was already at the summit. I figured it was all downhill from there.
By the time I actually arrived at Sop's house in Reno, it was almost midnight. So when it was all said and done, it took me roughly 8 hours to make a 4-hour drive. Sop excitedly stood on his lawn as I drove up in the dusty blue Dodge. We had a good laugh about how long it took me to get there, I grabbed my backpack, and we headed inside. It was my first time ever seeing Sop's house, so a quick tour of the residence was due. After that, it was time to pull everything out of my pack and re-organize it so that the weight and size were absolutely optimized.
Sop and I were like young boys again, rifling through our gear and showing off the things we would be bringing on the trip like kids bragging about their new toys. My pack weighed about the same as my first trip, somewhere around 30 pounds. Sop's pack, on the other hand, was ridiculously heavy, weighing at least 50 pounds. He was bringing a clunky Coleman cook set, which was ideal for car camping. He was also hauling a ca large stainless steel skillet because he was bringing a meat/vegetable concoction that he had stowed away in a large YETI tumbler. By the time show-and-tell ended, and we had all our gear neatly packed away, the clock had struck 2 a.m. Jeesh would be arriving at Sop's house in 3 hours. The journey had not even begun yet, and I was already completely toiled by exhaustion. Getting up the next morning was going to be a bitch.