reading time: 2 minutes
Foreword by: Travis Knight

I consider the Velos my second family. I've known Vincent since he was a little kid. His older brother, the closest thing to a wise guy I know and someone I consider a brother, Frankie V, was who I spent much of my childhood with; I basically lived at his parent's house for the better part of my early teens. Frank still frequently visits from his new home in Nevada, and when he does, its go time at the Velo residence. As we have all reached adulthood, the role of "little brother" that Vincent inhabited in our younger years has been exceeded—so these days, a visit with the Velos is no longer just time spent with Frank and his folks, but Vincent, too.

Every time I go over to the Velos, I feel like I am in Silver Lining Playbook. Ma's got lasagna in the oven, Frank puts on his jersey, and Pops puts on the game; the whole family gathers to watch The Birds—or The Niners. Every visit at the Velos reminds me of one thing—family—and although the beers are cold, life couldn't get much warmer.

Last time I was there, Vincent wanted to share his poetry with me. I agreed to listen, and immediately, I was blown away. His unique, quick and concise style takes the painful realities of life and transforms them into a profound and soul-moving reading experience. His interesting usage of words is enough to make one reevaluate how they use such words. When it comes to writing, Vincent has got it, and I think you will agree after you read these two pieces.

I hope you enjoy these pieces as much as I did!
The Absence of Thought is Painful
Written By: Vincent Velo
The absence of thought is painful.
This negative effect has Inadvertently consumed you.
Abruptly leaving you to linger in a personified void.
You tremor at the idea of knowledge being put to action.
Ponders turn to pain.
Suddenly the presence of absolute silence has departed.
What you thought was nothing, was replaced with your own ability to express.
You have the authorization to depict.
Overcoming the mental mountains that are all but tangible yet have a pungent lasting impression.
These gusts of negativity have overstayed their unwelcomed implosion.
Time is only how you interpret it.
Disconnect from darkness and ascend your head towards perseverance.
Make something beautiful.
***
Outlier
Written By: Vincent Velo
It's just the house settling;
through the window, evergreen.
Tell me why, you ask to leave?
Left alone, begin to grieve,
creaking doors and forgotten memories,
cold hallways, I face my enemies.
Another day leads to a blossom.
My friends call, and still I've lost them
***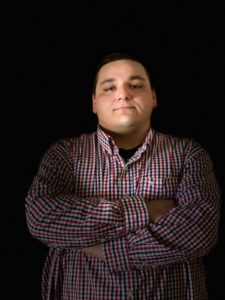 About the Author
Vincent Velo is an American writer based out of the Bay Area of Northern California. He graduated from Cogswell Polytechnical College with a BA in Management of Digital Media Concentration. Today, Vince specializes in project management and video game production; finding time to write poetry any chance that he is given.